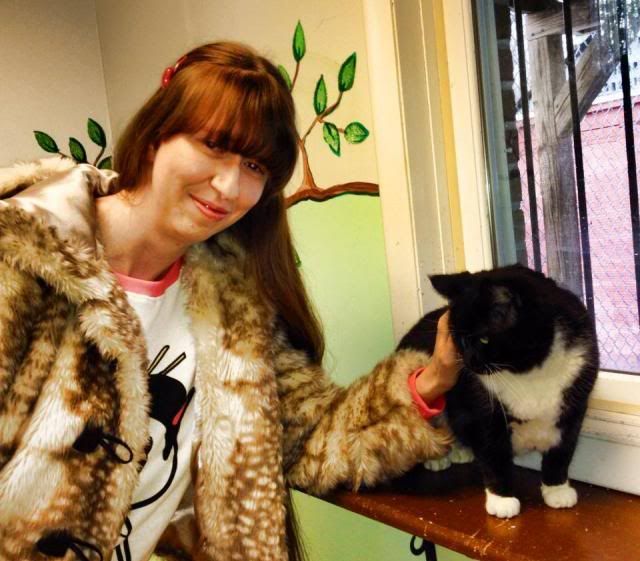 My new kitty! His name is Professor Chapman. They called him Chapman at the pound and mom said it was a silly cat name and that it sounded like a professor's. He was at the pound for years (they are no kill) and no one wanted him. He's very shy but idk I felt some kind of connection. I know that with humans, interactions don't happen like in a fairy story, but I thought maybe, I could make a fairy tale with this cat. He's been hiding all week, but I'm hoping that he'll come around. I know hope is wrong and stupid but...I'm trying it one last time. I just have a feeling that this will end up good for both of us.
I don't want to update about my other cat, the sick one. I'll make myself upset.
(and yeah, I'm not dressed up in this pic. Not dressing up to get all cat-hairy)
One of my friends is arranging a date for me. She says the guy doesn't want a gf, so I guess he's just being nice, so I'm not as excited as if it was a guy who really liked me. But I think it could be good practice! The moral of this story, though, is that if something is wrong and it's something fixable by other people, don't stay quiet. Make some noise. I kept having people on FB tell me 'Oh just stop looking and then a guy will find you'. Uh-uh. I tried that crap for 22 years. Now I've tried and tried and nagged everyone I know and finally got a bite. Never trust Facebookers.
For the new year, I want to get my hair cut 'hime' style, but I'm so chicken! I know it'll look great and hair grows back but ugh. Chicken.
I want to make an anime post soon and talk about new fandoms and OTPs. For this season, I'm loving Double Circle because It's basically Gatchman Crowds in different packaging. I'm also trying Buddy Complex because I must love to suffer. Valvrave was so painful, why am I watching more Sunrise anime?
I'm really wanting to see 3.0 in theatres but the nearest is 1 1/2 away since we live in a blackhole and one showing is on my parents' aniversary. idk